Apple's new iPhone 13 series is due shortly, and the most recent report indicates. That the next iPhone will be available in September 2021. You don't have to wait till then to get the important facts about the iPhone 13.
For the previous few months! iPhone 13 rumors have been surfacing from several sources. And we now have a clear image of certain specifications. For the iPhone 13, iPhone 13 Pro, iPhone 13 Pro Max, and iPhone 13 mini.
Below are the top-line facts about each of the new iPhone models. Followed by further information on each element of the phones. MacBook Air M1, 2020 Review, Everything You Need to Know
The leak specifications of the iPhone 13
| | | | | |
| --- | --- | --- | --- | --- |
|   | iPhone 13 Mini | iPhone 13 | Phone 13 Pro | iPhone 13 Pro Max |
| Display | 5.4 inch | 6.1 inch | 6.1 inch | 6.7 inch |
| Processor | A15 | A15 | A15 | A15 |
| Storage | Up to 1TB | Up to 1TB | Up to 1TB | Up to 1TB |
| Main Camera | 12MP+12MP | 12MP+12MP | 12MP+12MP+12MP | 12MP+12MP+12MP |
| Front Camera | 12MP | 12MP | 12MP | 12MP |
| Refresh Rate | 60Hz | 60Hz | 120Hz | 120Hz |
| Charging | 25 Watt | 25 Watt | 25 Watt | 25 Watt |
| Battery | 2406mAh | 3095mAh | 3095mAh | 4325mAh |
iPhone 13 Release Date
The iPhone 13 May release in September 2021. And we expect that it will be accessible on the third or fourth Friday of the month (September 17 or 24).
Before 2020, Apple would frequently announce new iPhones on the first or second Tuesday of September. If this happens again in 2021, we predict the iPhone 13 series to be introduced on September 7 or September 14, with a 10-day launch.
An expert also stated that he anticipates an announcement in the third week of September this year. Implying that September 14 is the most likely date, with September 15 also being a possibility. Because the brand occasionally promotes the smartphone on Wednesday.
Based on Apple's normal strategy, we'd expect pre-orders to begin on September 17, with a September 24 release date (the following Friday).
The Covid-19 epidemic, yet, makes it unlikely that this will be the iPhone 13's delivery date. After being pushed back to October 2020, the iPhone 12 and iPhone 12 Pro were introduced in November 2020.
According to reports, the 2020 postponement resulted in a rise in sales of the devices. Apple may opt to stick with this new window, but leaks haven't revealed anything concrete. iPhone 13 is widely expected to be released virtually in 2021, rather than in person.
Apple's iPhone release timeline from 2017 to the present, with the expected release date of iPhone 13:
| | | |
| --- | --- | --- |
| Model | Announcement | Release Date |
| iPhone 13 | 14th September 2021 | 24th September 2021 |
| iPhone 12 | 12th October 2020 | 23rd October (12, 12 Pro) and 13th November (12 Pro Max and 12 Mini |
| iPhone 11 | 10th September 2019 | 20th September 2019 |
| iPhone XS | 12th September 2018 | 21st September 2018 |
| iPhone x | 12th September 2017 | 3rd November 2017 |
iPhone 13 Price
There has been one major pricing leak for the iPhone 13 range. This indicates that the new models will be priced similarly to that of the iPhone 12. This is following our expectations.
Yet, we're quite convinced that the iPhone 13's costs will be comparable to those of the iPhone 12's. We'll update this page as new 2021 iPhone price leaks and speculations become available.
This year, costs are likely to climb somewhat. There are speculations that much of the globe will receive mmWave 5G, which US iPhone 12s currently support, which will drive up prices. No major changes are expected, though.
The iPhone 13 series is expected to cost around the same as the iPhone 12 series, resulting in the following prices:
| | |
| --- | --- |
| Model | Cost |
| iPhone 13 Mini | $699 |
| iPhone 13 | $799 |
| iPhone 13 Pro | $999 |
| iPhone 13 Pro Max | $1099 |
iPhone 13 Design
Apple's iPhone 13 series is expected to have a reduced, but still noticeable notch and a flat design similar to previous year's models, according to analysts.
Earlier this month, a leak of iPhone 13 glass panels indicated that the iPhone 13 notch may actually be smaller, at least in terms of width, than the iPhone 12. CAD renderings of the iPhone 13 mini with a lower notch and alternative arrangement of the rear cameras were also leaked in April. Google Pixel 6 and Pixel 6 Pro were unveiled visor-like cameras.
According to leaks from mid-February, the iPhone 13 will have a grippier, somewhat more texturized soft matte back that will be more comfortable to handle. MagSafe accessories will be housed within the iPhone 13 using stronger magnets.
According to an earlier, previously-mentioned rumor from January 9, all iPhone 13 models would be 0.26mm thicker, most likely due to larger batteries than the prior generation of iPhones.
According to a Bloomberg story published on January 15th, the iPhone 13 will finally include an in-display Touch ID fingerprint sensor. We've had in-display sensors on Android phones for a long now, and given that many people are wearing masks and so finding Face ID difficult right now, the return of Touch ID, but updated for 2021, seems likely. However, such a feature may be postponed until the iPhone 14 series instead.
According to several tipsters, the iPhone 13 may be the first portless iPhone, depending solely on MagSafe for wireless charging. The fact that Apple is testing a portless iPhone's ability to retrieve data was reported in late February, indicating that such an iPhone is on the horizon.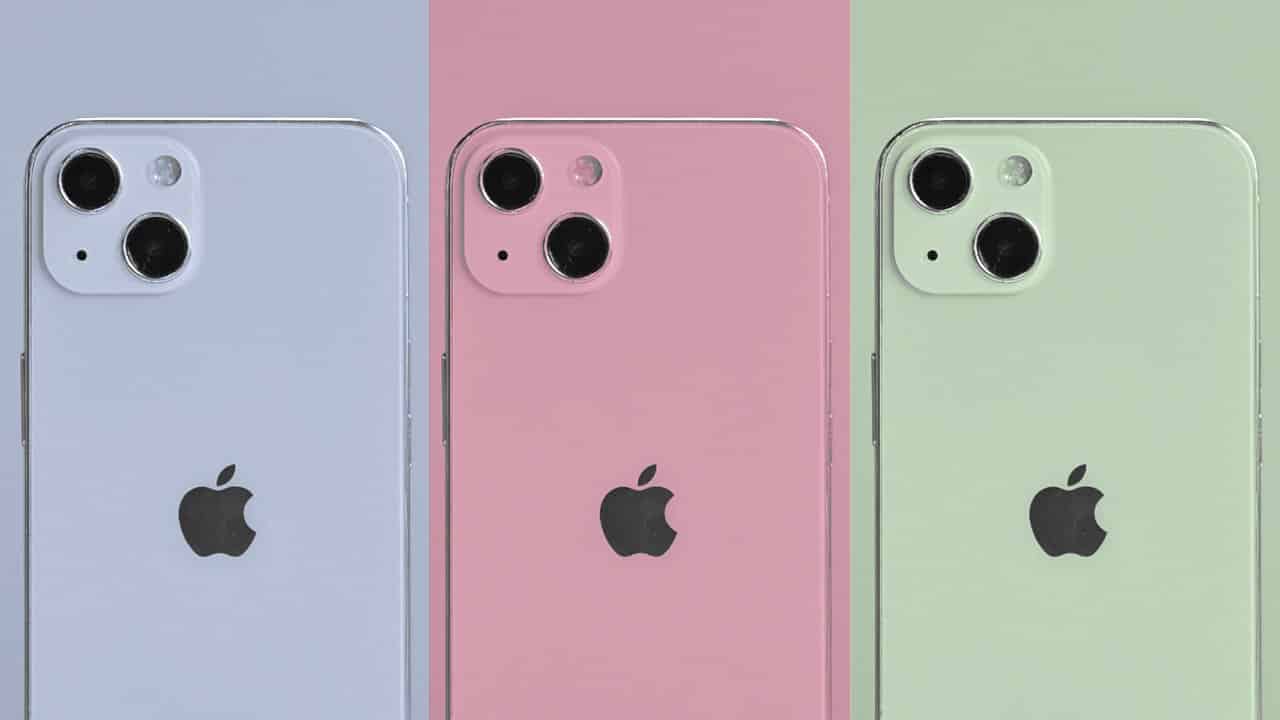 As of April 13, though, the notch on the iPhone 13 5G appeared to be reduced once again in leaked renderings. Four cutouts were visible in the notch, one of which might be for a second front-facing camera or an extra speaker.
It was shared on Twitter on June 23, 2021, by leaker SonnyDickson. It shows purported iPhone 13 mockups from the rear.
Those iPhone 13 dummy models are consistent with earlier reports, indicating that the phones would feature bigger camera modules than last year. The standard iPhone 13 and the iPhone 13 mini are also revealed with a new diagonal camera layout.
On July 9, another purported iPhone 13 fake device surfaced, courtesy of leaker Ice Universe. The leaked dummy devices, once again, support the bigger camera module redesign that we expect for the iPhone 13 series.
According to a late July leak focused on the iPhone 13 notch, the iPhone 13 notch will be almost 25% smaller than it was on previous year's models. Many earlier leaks have predicted a smaller notch, but this one also reveals how Apple achieved the lower notch. To decrease the breadth of the notch, Apple allegedly placed the iPhone 13's earpiece over the Face ID system.
The following are the main design differences between the iPhone 13 and the iPhone 12:
The notch is about 25 percent smaller than before.
Camera module with a larger sensor
On the iPhone 13 and smaller versions, the camera is now arranged in a diagonal configuration.
About 0.26mm thicker on all iPhone 13 models
iPhone 13 Display
The iPhone 12 was extensively speculated to include a 120Hz refresh rate display, however, that didn't happen. Apple is expected to add this feature on its next iPhone 13, which will smooth out the display when playing games or browsing through your social media feed.
As we've seen with Apple's iPad Pro line, the refresh rate may be adjusted according to the activities you're performing on your phone. The notch on iPhones may eventually vanish
Multiple speculations have claimed that the 120Hz refresh rate feature is on the way, including reports from DigiTimes and well-placed experts, who have also suggested that this technology may only be available on two of the four predicted iPhone 13 variants.
Site in Korean According to the Elec, industry insiders believe the top two models would receive a 120Hz screen, thus this may be a Pro model feature in 2021. That website has also been updated with more information, saying that Samsung will be the exclusive provider of these 120Hz panels.
According to an Apple patent, the next iPhone might feature a refresh rate as high as 240Hz, which is greater than any popular phone presently delivers. A lot of patents never become features, so take this with a grain of salt.
With the iPhone 13 family, we're also expected to see an always-on display. Mark Gurman, a Bloomberg reporter, is among the trustworthy leakers who have hinted that this will be the case. This feature has been available for years on Android phones, so it's about time Apple caught up with them.
What are the expected sizes for the iPhone 13 family? According to speculations, the models will be the same as last year's, with a 5.4-inch iPhone 13 mini, a 6.1-inch iPhone 13 and iPhone 13 Pro, and a 6.7inch iPhone 13 Pro Max.
iPhone 13 Camera
Analyst Ming-Chi Kuo believes the iPhone 13 Pro and Pro Max's ultra-wide camera will be upgraded to a six-element, f/1.8 lens from the present five-element f/2.4 lens on the iPhone 12 Pro and Pro Max.
The iPhone 14 Pro models, he says, will have autofocus for their ultra-wide lenses in 2022, as will all four iPhone 14s, he says. In June 2021, Kuo reaffirmed this claim, thus it appears that he is confident in his assertion.
Having said that, we've also heard the identical adjustment in aperture from analysts at Barclays, who believe that this update will be available for all four iPhone 13 models. This could improve low-light performance, but it may also result in a shorter depth of focus, which may be less desirable in the landscape images that ultra-wide cameras are known for.
According to the Barclays analyst note, the iPhone 13 Pro may receive the same telephoto camera as the iPhone 12 Pro Max, allowing for 2.5x optical zoom, up from 2x on its predecessor.
Meanwhile, Kuo has stated that the telephoto camera would receive a similar six-element update to the ultra-wide camera, at least on "high-end" versions.
Kuo also has information on the primary camera, stating that it would be altered to an f/1.5 aperture on the iPhone 13 Pro Max. This could enhance low-light performance and the bokeh effect for portrait pictures, but it appears that the remainder of the iPhone 13 lineup will not see this update.
MacRumors talks about the camera feature of the iPhone 13. It says all four iPhone 13 models may have a LiDAR scanner, rather than just the Pro versions, as was the case with the iPhone 12 line. That allegation has now been repeated by the same site, as well as by another source. Everything will be cleared after the iPhone 13 release.
However, another source, as well as another, has since refuted this assertion. Because these two leaks are more recent, we believe they are more likely to be real, especially since one claims that Apple had initially planned to include LiDAR in all iPhone 13 models (explaining the prior leaks), but will no longer do so. It appears that only the iPhone 13 Pro and iPhone 13 Pro Max will receive LiDAR.
According to a source, all four iPhone 13 models will receive sensor-shift OIS (optical image stabilization), an improvement for all save the Pro Max, which already has it, and the two Pro versions will gain a bigger primary lens. Another report indicates that sensor-shift OIS and focusing will Apple introduced to the next phones' ultra-wide cameras, but maybe just the iPhone 13 Pro and Pro Max versions.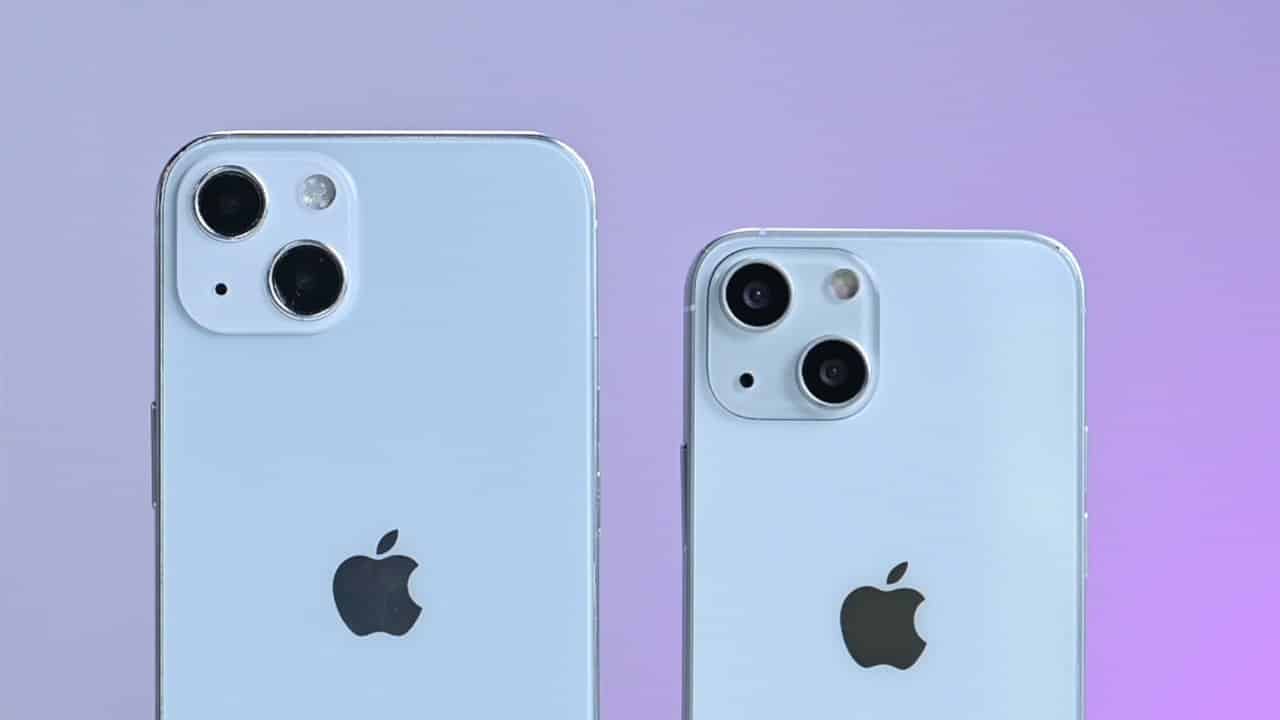 Sources suggest that Apple is purchasing considerably more voice coil motors (VCMs) than usual. This appears to be for upgrades to both the back cameras (presumably the inclusion of sensor-shift, which employs a VCM) and the 3D sensors for Face ID.
All of these modifications might result in a considerably larger camera block, at least for the iPhone 13 Pro, since a shot of a case allegedly intended for the phone but containing an iPhone 12 Pro indicates that the camera cut-out is way too large for the current model, as shown above.
We've also heard speculations regarding probable redesigns of the iPhone 13 and iPhone 13 Mini's two back cameras: instead of being aligned vertically, they may be placed diagonally.
A rumored photo of an iPhone 13 Mini prototype was posted on Weibo, indicating how the final phone – and those revised cameras – may look. Some of the leaks farther up also show the improved camera design.
Finally, sources claim that Apple is considering including a periscope camera in future iPhones. This will allow optical zoom, perhaps up to 10x, with a wider zoom range than the previous version without increasing the thickness of the camera components. However, according to speculation, this may not be available until after iPhone14. According to Mr. Kuo, that won't happen until 2023.
iPhone 13 Battery
iPhone 13 battery size might be reduced by using flexible board technology, according to analyst Ming-Chi Kuo. Dissatisfied with the battery life of your iPhone?
According to Kuo, the iPhone 13 might feature a larger battery than the iPhone 12. A "space-saving" design, Kuo claims, is being experimented with by Apple, and he is confident the company will release such an upgrade in the second half of 2014.
We heard that wireless charging could be improved in the future. According to reports, the iPhone 13 will have larger wireless charging coil, allowing for faster charging, better heat handling, and possibly even reverse wireless charging (so you can put your AirPods on the back of your iPhone). charge them).
According to the same source, these larger charging coils can also work with stronger MagSafe magnets on the way.
According to the same source, these bigger charging coils may also function in conjunction with the stronger MagSafe magnets that are reportedly on the way.
Sources have said stronger MagSafe magnets are on their way. These bigger charging coils might also function in conjunction with them.
These bigger charging coils might function in conjunction with the stronger MagSafe magnets that the same source claims are on the way.
MyDrivers.com also claims to have sources that indicate the iPhone 13 series will offer 25W wired charging. This is expected to be quicker than the iPhone 12 series' 18W.
An Apple patent also mentions a 'safe charging' mode, which would prevent you from overcharging the phone even if you left it plugged in for extended periods of time (such as overnight). However, patents are not always used, so don't rely on this.
iPhone 13 Storage
Regarding iPhone 13 storage, it has been speculated that Apple would increase the highest storage capacity on some models from 512GB to 1TB, up from 512GB last year. According to a more recent report by Wedbush analyst Daniel Ives, at least the iPhone 13 Pro and Max versions will offer a 1TB storage option.
Similarly, another subsequent leak from supply chain insiders said with 'greater confidence' that 1TB iPhone 13 versions will be available this autumn.
iPhone 13 Specs
Sources of information (Rica's Jon Prosser) are suggesting that it may be time to see the introduction of a 1TB iPhone in 2021. This is at least a smartphone the size of storage the company hasn't experimented with yet, and it's expected to be an option for the most expensive Pro handsets. I've heard this many times. If the information on the
Prosser is correct, it could be the most expensive iPhone ever since there is a lot of storage in one phone. These options are more useful for professionals than regular users, but so far Apple is clearly nothing more than a test prototype.
This means that it may not be displayed, especially since other sources of information show the same storage capacity as last year.
Performance should increase every year, but we're hearing rumors that advanced vapor chamber cooling will be introduced to the iPhone 13, but if you're not ready this year, check it out for the iPhone14.
It is also said that the A15 chipset, which is expected to be installed in the
iPhone13 series has entered mass production. The source of the report on the subject also says it's a 5nm chipset the same size as the A14, and probably means the improvements here aren't massive.
According to other sources, the iPhone13 series is equipped with a 5nm chipset, and the iPhone14 is expected to be 3nm.
iPhone 13 Colors
In terms of the predicted iPhone 13 color possibilities, many speculations have suggested a rainbow of iPhone 13 hues in recent months. So far, the iPhone 13 is expected to be available in Matte Black, Rose Pink, Purple, Orange, Product Red, White, Yellow, Mint Green, Graphite, Gold, and Silver. It's worth noting, though, that not all iPhone 13 models will be available in all of these hues. For example, the anticipated Matte Black will most likely be limited to the iPhone 13 Pro and maybe the iPhone 13 Pro Max, rather than the standard iPhone 13.
On July 15, all iPhone 13 Pro colors were supposedly released. The iPhone 13 Pro and 13 Pro Max will be available in Black, Silver, Rose Gold, and Sunset Gold if the rumor is accurate.
iOS 15
One thing we already know quite well is the iPhone 13 software because it will definitely run iOS 15. Although the next-generation software is not yet available, Apple has announced it. The highlights of iOS 15 include several FaceTime enhancements, such as the ability to join a call via a network link, which even Android users can access, and spatial audio and voice isolation. At the same time,
Messages will receive status updates, the real-time text function allows you to convert text into images or copy them into documents, the weather application has been redesigned, the map is getting new detailed information about business districts and buildings, etc…
iPhone 13 Other Leaks
Of course, starting from 2021, the iPhone is expected to continue to support 5G, but a source said that the millimeter-wave model will be more suitable than the iPhone 12 series (millimeter wave only available in the US), both of which are in the UK. The United States and Australia (among other things). Place) might get them.
Since then, we have heard the news again. According to reports, more than 50% of iPhone 13 models worldwide support millimeter waves. This may be much faster than the 5G sub6GHz that the iPhone 12s insists on in most parts of the world, but it also requires the right infrastructure and spectrum to be available, which is not yet available in most places.
Continues to use wireless technology, and they also let us know that the iPhone 13 will be equipped with some WiFi 6E connections to connect to the network and the cloud faster.
Announcement of iPhone 13 release
This is the first prediction of analysts, and they have said the same thing more definitely, and even pointed out the so-called WiFi 6E technology supplier.
Finally, an Apple patent details a system that allows the iPhone to track your line of sight so that you can swap or rearrange the letters of a word to see which part of the document you are reading and cover up other parts.
This means that you can read confidential documents in public places without risking snooping. However, we don't think this will show up on iPhone 13.
There are also rumors that the portless iPhone will debut in 2021. It is said that we have heard from many sources, but most people think that only one model (probably the iPhone 13 Pro Max) will have no ports.
Apple is obviously also trying to figure out how to reset a portless iPhone. We think this is unlikely to happen in 2021, but this may be something Apple is considering for future devices.
What are the people thinking about iPhone 13?
A survey indicates, close to half of iPhone owners intend to upgrade to the iPhone 13. The iPhone 13 mini model is the highlighted phone and it is attracted by most of the iPhone users, and also features of iPhone 13 like 120Hz ProMotion, hidden touch ID, and as always display.
Sellcell published their survey report. It claims that 43.7% of iPhone users planned to switch to the iPhone 13 and the percentage of not interested people is 56.3%. This report also says there was very little interest in iPhone 13 mini model. People always think about this brand and most importantly people trust this brand.
According to the survey, 38.2% of the potential buyers said they would go for the standard iPhone 13. On the other hand, 30.8% wanting the larger Pro Max variant, and the percentage of the Pro model is 24%. Only 7% wanted the iPhone mini.
The survey of sellcell was relatively small. It was a US-based survey and the amount of people is 3,000. They are all 18 years or older iPhone users.
But there is another point that is highly hyped, and it is Digital Legacy. It is announced by iPhone as a new feature that is coming with iOS 15, iPad OS 15, and macOS Monterey. Digital legacy refers to when an iPhone user will pass away, his/her information will be handed over to the user's family or friend according to the user's preference. iPhone users will be able to add legacy contacts to their accounts. A majority of the Apple users intend to use this digital legacy feature but many of them would prefer control over what data is to be shared.